Robot harness drag chain cable is mainly suitable for frequent moving and bending occasions because the more common cable should have: high flexibility, oil resistance, shallow water resistance, moisture resistance, UV resistance, excellent weather resistance, low-temperature resistance, wear resistance, can withstand heavier mechanical external forces; cable than ordinary flexible cable faster acceleration with more robust resistance to bending around.
Robot wiring harness with high resistance to torsion and other characteristics, clever wiring between the mechanical bending arm, resistance to bending more times, significantly increasing the service life of the equipment.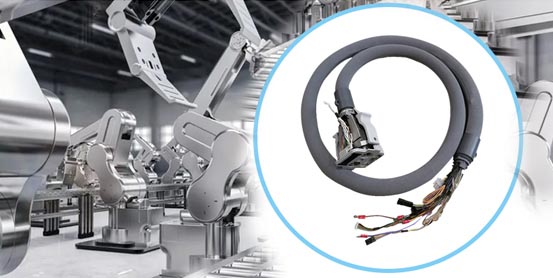 For a robot to perform its tasks accurately and efficiently, the connections inside the robot must not be faulty.
This is why the crimping of the robot wire harness is so essential, and the crimped harness must be stable and reliable.
What is a robot harness?
Robot wire harnesses are generally divided into signal and power circuit cables.
A: There are two types of cables for signal circuits and power circuits. They are mainly used in the rotating or wrist part where extreme bending and twisting are applied, such as super bending resistant cables or spring cables.
B: There are also two types of cables, signal and power circuits, and they are mainly used for bending-resistant cables for parts with less frequency and milder conditions than A, such as general joint parts.
C: Signal circuit, mainly used for guiding the box with wire, because it needs to be operated, so it needs to have a flexible cable.
D: There are two types of signal circuits and power circuits, mainly used for contact cables between robots and control devices, divided into fixed and mobile wiring.
E: Divided into a signal circuit and power circuit, mainly used for fixed wiring inside the control device and other machines with wire and cable.
Industrial robot wiring harnesses are generally multi-plug, multi-harness combinations while equipped with different electronic components into a combination.
Because it not only undertakes the signal transmission in the electrical equipment but also conducts the current role, the connection is complex and fully functional.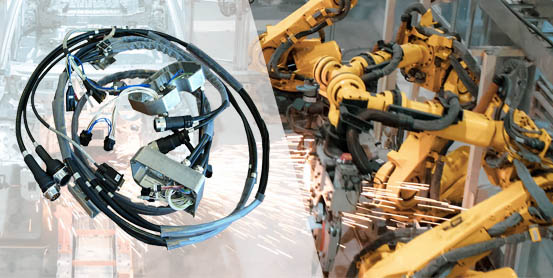 Custom Robot Harnesses
Robots are used in various applications such as machining, painting, assembly, welding, and handling. In these applications, robots may deal with various harsh working environments, and robot wiring harnesses are one of the core components of robots.
All industrial robot wiring harnesses should meet the corresponding requirements specified in the standard for industrial robot cables. Various types of cables should meet this part, respectively.
The special requirements specified; high wear resistance, first-class mechanical performance, and high flexibility; high-cost performance, long service life, and good stability; torsion test after 5 million round-trip movement test
1. Sheathed cable for bending and twisting wiring
It refers to the cable mainly used for the main body of the robot arm when it moves and to provide power or transmit signals for the robot arm.
2. Sheathed cable for drag chain wiring
Refers to the cable mainly used for drag chain track, long-term drag chain movement, to provide power or signal for the equipment.
3. Wire and cable with rated voltage 600V and below
Used for equipment cables with a system-rated voltage not exceeding AC 600V.
Rated voltage is the reference voltage for cable construction design and electrical performance testing.
Rated voltage is expressed as U0 / U in V.
U0 is the rms value of the voltage between any insulated conductor and the "ground" (metal sheath or surrounding cable medium).
U is the rms voltage between two-phase conductors of a multi-core or single-core cable system.
When used in an AC system, the cable's rated voltage should be at least equal to the rated voltage of the cable system used. This condition applies to both U0 and U values.
When used in DC systems, the rated voltage of the system should not exceed 1.5 times the cable's rated voltage.
After 15 years of research and development and design, Maojia has complete experience in developing and designing robotic harnesses and production. We use four-core shaft crimping. Four-core shaft crimping is very efficient, safe, and beyond performance. This technology is developed for aerospace. The implementation of the standard is the U.S. military standard, MIL-C-22520 series standards. All the four-core shaft tooling is developed on this standard technology.
In this form of crimping, we don't need to worry about the robot connection. Whatever the case, Maojia can give the perfect solution.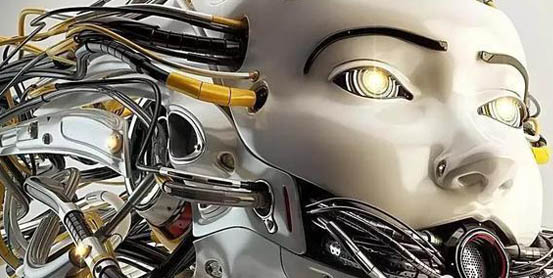 Some parameters of robot harness
1. Wire harness conductor
The conductor of the industrial robot harness should be flexible because the more refined the conductor, the better the flexibility of the harness. If the conductor is too thin, the phenomenon of tangling the harness will occur.
2. The harness core insulation
The insulation materials inside the wire harness should not stick to each other. The insulation layer also needs to support every single strand of the wire.
3. The wire harness tensile components
The center wire filling of the industrial robot harness protects the stranded wire structure. It prevents the stranded wire from straying into the center area of the cable.
4. The stranded wire structure of the wire harness
The stranded wire structure must be wound around a stable tensile center at an optimal intersection pitch.
5. Harness inner sheath
The inner sheath of the harness ensures that the stranded wire structure does not fall apart.
6. The harness shield
Because the loose woven tape will reduce the EMC protection performance, and the shielding layer also quickly due to the cracking of the shielding and failure, the harness tightly woven shielding layer has the role of torsional force resistance.
7. Harness outer sheath
The outer sheath of the harness made of different materials has different functions, including UV resistance, low-temperature resistance, oil resistance, and cost optimization. But all of these sheaths have one thing in common, high abrasion resistance and will not adhere to anything. In contrast, industrial robot harness sheaths need high flexibility and high-pressure molding.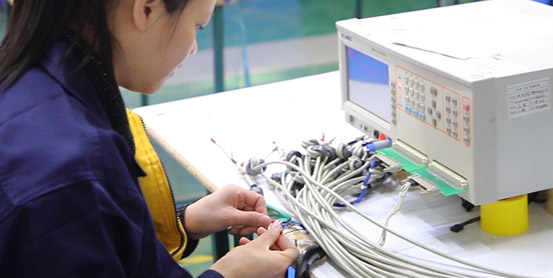 Advantages of Maojia Robot Harness
In robot wiring harness customization, full integration customization ability is essential. Years of robot wiring harness customization processing let us build a rich customization experience, systematic customization process, and ability, from the simple wiring harness to the complex wiring harness.
Drawing design, connector, cable, mold, processing, production, testing, and packaging, we can complete the entire process, making our quality more secure and spending less time on customization. That's why we have strict quality assurance capability and fast custom production lead time!
Certification of Maojia Wire Harness
As a UL-listed manufacturing facility, we use many standard UL® cable types. Our team can get started faster with known gauge cables and use the harness to our customer's advantage during the assembly process.
Our certifications are also ISO 9001, ISO 13485, and IP67/68, a reflection of our standardized and standardized production, which allows us to integrate technology and fine craftsmanship into our projects perfectly.
Quality testing of Maojia harnesses
Once the harness is designed and produced, the critical testing process to ensure quality begins. Every harness we produce is tested for 100% continuity, integrity, polarity, and function before being shipped to customers worldwide. We have a complete test system to detect all anomalies from the inside out because we want to ensure it is correct before it leaves our facility, we have over 25 quality inspectors at the factory, and we are International IPC (IPC/WHMA-A-620D CN) evaluated. Attention to quality and detail is the core competency of What Maojia.
How to start a custom wiring harness
We offer a full range of wire harness and cable assembly design and manufacturing services. Fast manufacturing speed and excellent quality are our strengths. We deliver the perfect solution on time and within budget every time, and we are constantly improving our processes.
Over the decades, we have developed a more comprehensive capability to meet the more complex processing of custom services. The process will begin with a detailed dialogue with our customers to review the specifications needed to meet their needs. We will have a strict timeline to ensure completion within the specified time frame.
Our team consists of experienced professionals who are skilled and innovative fabricators. When you are ready to get started, you can contact our team.
Maojia Custom Robot Harnesses